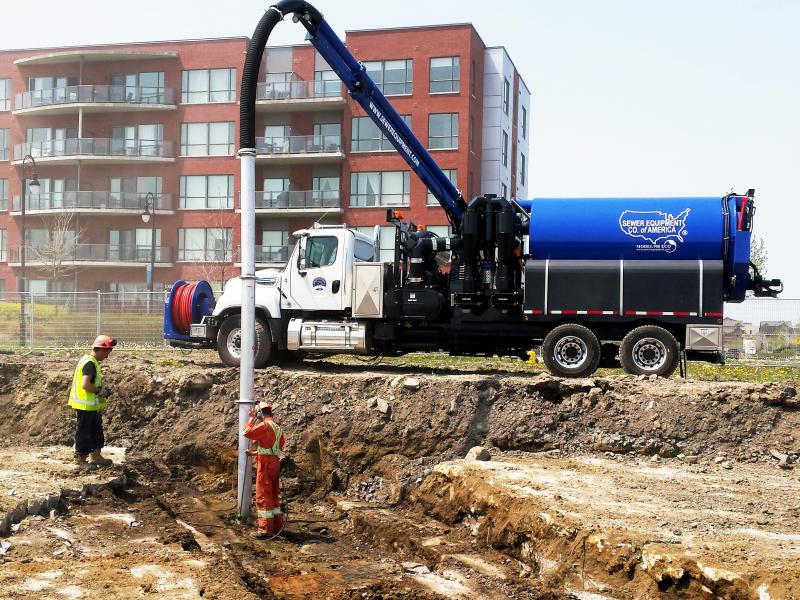 Sewer Equipment Co. of America introduces the 900 ECO Combination Sewer Cleaner utilizing proven technologies to deliver a machine with simplicity that is unequaled in the industry.
As with our leading 747 ECO trailer jet and 800-HPR ECO truck jet, the 900 ECO operating platform offers the best in class fuel efficiency and noise reduction for operator safety. Sewer Equipment: Best Products, Best Local Support.
Generations of experience have resulted in the development of the most advanced water jet equipment ever produced. Experience has proven the importance of choosing the proper trailer jet for your particular safety and performance needs.
The Sewer Equipment Company of America is proud to offer a wide variety of trailer jet equipment all based on the industry leading Model 747-FR2000 design.
This unit in the RAMVAC family of full size hydro excavators offer 9 cubic yard debris bodies, 0 - 18gpm @ 2500 psi water systems all in a heated enclosure, compact footprints, NEMA rated electrical systems, debris blow-off systems and fully hydraulic power trains for superior reliability.  For customers looking to dig with air, you have the option to add a 185 cfm @ 150 psi air compressor to your unit.  All these features combined with a parts and service network that is available 24/7 and it is clear why RAMVAC is the best value for your equipment needs today!
Are certain sewer pipes in your community neglected due to hard to reach manholes? Do your maintenance crews have to manually drag hose across easements or do they cause damage to yards when trying to get their trucks close enough to service these remote line?
If this is the case, A sewer Equipment Company of America easement machine would be an invaluable asset to your fleet. Offered in three configurations, the JAJ-600TH (track), JAJ-600WH (extendable track), and JAJ-600SK (skid mounted) units extend the reach of your sewer jetting truck or trailer by 500 feet or more.
Sewer Equipment Company of America produces several varieties of truck jets. The top of the line 800-HPRTV Truck Jet is equipped with the innovative and unique Umbilical Cord* - this single construction cord houses both high pressure sewer hose and a video communications cable.
This unit also comes with Dual Patented Telescoping/Rotating/Pivoting Hose Reels. When in operation, the rear roll-up door opens and the hose reels "Telescope" out of the heated rear compartment - and are now able to "Rotate/Pivot" 190 degrees for maximum access to difficult to reach manholes.
Sewer Equipment Company of America rodders offer a fantastic sewer cleaning alternative to those communities looking to conserve water, fuel and budgetary resources.
This machine allows you the ability to cut roots all day without using a drop of water and only a small fraction of the fuel consumed by traditional jetter. Not to mention, the full cost of this machine is the same as a down payment on a typical combination sewer cleaner.
The Mongoose 184 High Pressure Jetting Unit is our most popular selling unit. Trailer mounted, the Mongoose 184 produces 18 gallons per minute at 4000 PSI and has a 300 gallon water tank. A heavy duty hose reel with 500 feet of high pressure jetting hose mounted on a heavy duty swivel hose reel delivers pressurized cleaning water where needed. Operators can control Mongoose 184 from a conveniently located Nema 4 rated control panel or by the use of an optional full function wireless remote control system. The Mongoose 184 is a versatile unit, capable of cleaning sewer lines up to 18 inches in diameter or pipes 1-1/2" to 3" in diameter with optional small diameter hose kits.
Great power, great features, and great value: The HX-1000, 2000, and 3000 is our trailer hydro excavator that stands head and shoulders above the best offerings of our competition. Great quality to the hydro excavation market. Power that is capability of a truck mounted hydro excavator on a trailer.
Most experts maintain that, while there are newer methods, a Sewer Equipment Company of America bucket machine is the preferred method for cleaning larger lines that are heavily laden with sediment. Our process allows for a clamshell bucket to be pulled into the pipe with the pull-in module until the bucket is full. Once full, the truck loader module pulls the bucket back out of the line by way of a cable, therefore closing the clamshell and the material can be deposited into a truck. This process is repeated until the line is clean.
Budget minded customers can look to the 545 series, which has the same construction features of the 747, but is without an engine and pump enclosure, or with engine enclosure only.
Next Steps...
Please give is a call to schedule a demonstration for a piece of equipment.  We would love to show you what we have to offer at your location.